Director of Operations Resume Sample (Example)
The resume example below has been written by me, a Nationally Certified Resume Writer, a Internationally Certified Job and Transition Coach, and a Certified Interview Coach. To learn more about my qualifications, go to the online resume writer page where I outline my qualifications in detail.
As a director of operations, it is extremely important to ensure your resume focuses on key areas hiring managers are the most interested in. My resume service is highly consultative and during our question and answer session, I will gather the information I need to create a compelling resume (you will not have to complete worksheets).
To ensure your resume makes readers sit up and take notice, contact me.
As a Director of Operations, you'll be trusted to perform the following:

Provide professional development opportunities and empower a team to deliver on customer / corporate expectations.

Secure cost savings through strategic forecasting and review profit margins.

Partner with other divisions to ensure performance metrics are met and

communicate with other members of the leadership team to manage strategic growth projects.

Strengthen operational systems through benchmarking efforts in key areas: business administration, portfolio management, financial reporting, and human resources.

Offer insightful financial analysis and make firm, executive level decisions to ensure budget remains on point.

Leverage quantitative and qualitative research / analysis to offer recommendations for change.

The Director of Operations sample below touches upon the
aforementioned
qualifications and more, including supply chain management principles, start-up and turnaround operations, and regulatory compliance management. The core competencies that your resume will focus on depend on your experience and achievements so these specific ones may not fit your current situation. In addition, it also depends on the professional strengths included in the job postings in which you are applying. I can assist you in creating a resume that will generate interviews. Reach out to me to get started.
Only page one of this resume is visible. Copyrighted. Do Not Copy.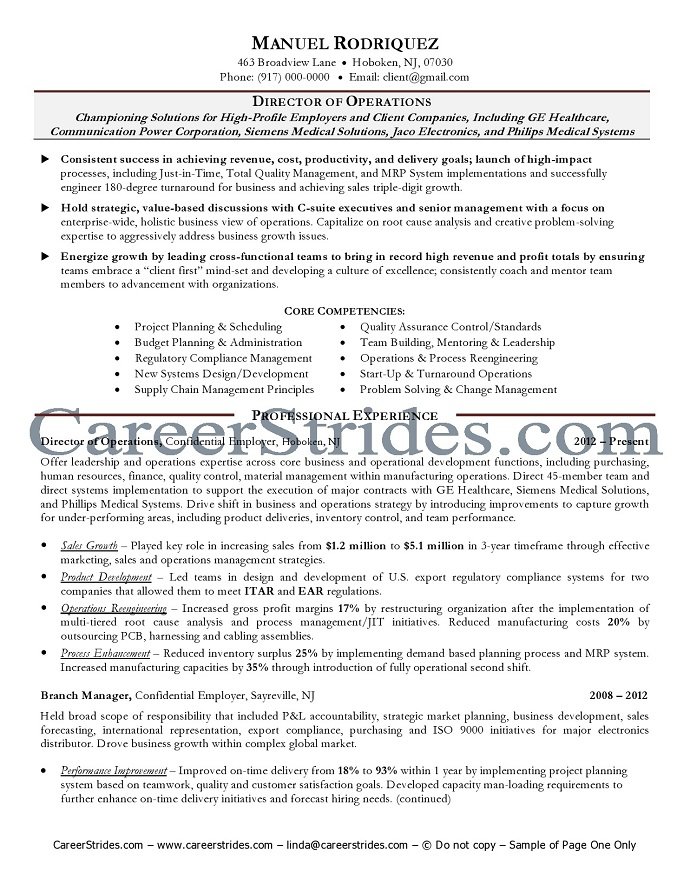 Submit Your Resume for Review


Don't have a resume to submit? No problem. Contact me at linda@careerstrides.com. After answering a few simple questions I will provide a firm quote.





- - - - - - - - - - - - -



If you are having difficulty with this form, email your resume and/or cover letter.

Thank you for your interest in CareerStrides. I look forward to working with you.