Director of Operations Resume Sample (Example)
The resume example below has been written by me, a Nationally Certified Resume Writer, a Internationally Certified Job and Transition Coach, and a Certified Interview Coach. To learn more about my qualifications, go to the online resume writer page where I outline my qualifications in detail.
As a director of operations, it is extremely important to ensure your resume focuses on key areas hiring managers are the most interested in: (1) provide professional development opportunities and empower a team to deliver on customer / corporate expectations; (2) secure cost savings through strategic forecasting and review profit margins; (3) partner with other divisions to ensure performance metrics are met and communicate with other members of the leadership team to manage strategic growth projects; (4) strengthen operational systems through benchmarking efforts in key areas: business administration, portfolio management, financial reporting, and human resources; (5) offer insightful financial analysis and make firm, executive level decisions to ensure budget remains on point (among others).
The Director of Operations sample below touches upon the aforementioned qualifications and more, including supply chain management principles, start-up and turnaround operations, and regulatory compliance management. The professional strengths that your resume will focus on depend on your experience and the competencies included in job postings. So these specific ones may not fit your current situation.
Only page one of this resume is visible. Copyrighted. Do Not Copy.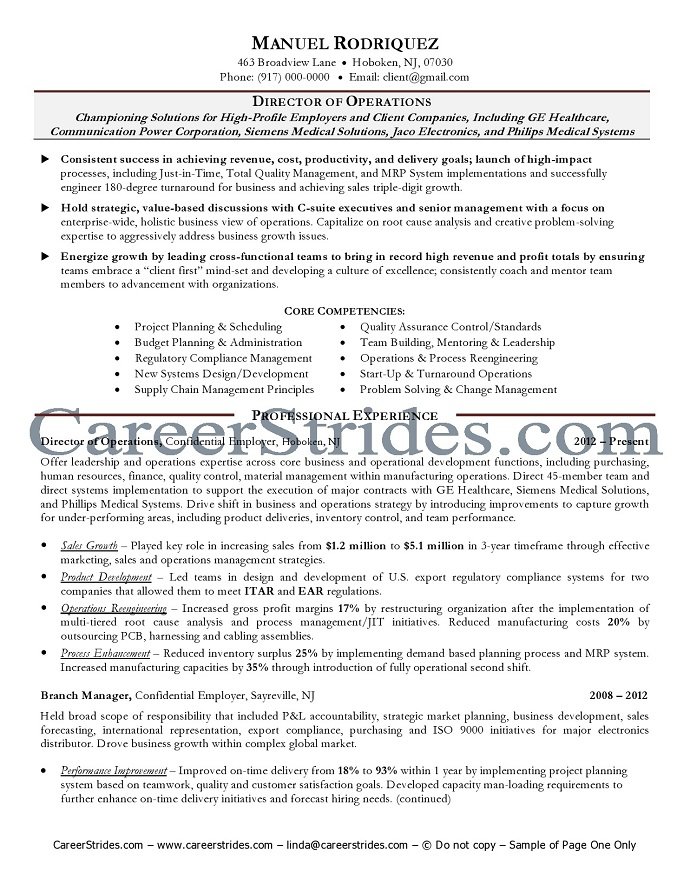 Ways to Contact Me
Linda Matias, NCRW, CIC, JCTC
Nationally Certified Resume Writer
Phone: (631) 403-2158
Email Resume: linda@careerstrides.com