Plant Manager Resume Sample (Example)
As a plant manager, you need to expand on the following core competencies on your resume: building business partnerships, change leadership, customer focus, operational decision making, strategic planning, and team development. In addition, the resume can flesh out the following:
Lead a team to follow

Food Safety, GMP, and SOP's guidelines.

Collaborate with senior managers to optimize safety and quality processes, cut costs, and improve services.

Combine proactive mindset with root cause analysis experience to enhance processes and drive corrective actions: implement continuous improvement programs, introduce new design initiatives, and execute Six Sigma strategie
Conduct internal audits in preparation for external audits; d

evelop annual budget and capital expenditures plans; and

initiate plans to deliver financial performance to plan.

Direct manufacturing operations and product strategy functions to maintain labor hours, cycle, and production costs.

Ensure production meets
Below is a sample of a plant manager resume I wrote for one of our clients. Visit my resume samples page to review additional examples. After reviewing my Plant Manager resume, consider my professional rewrite services where I write your resume from scratch. To learn more about my qualifications go to the online resume writer page.

Only page one of this resume is visible. Copyrighted. Do Not Copy.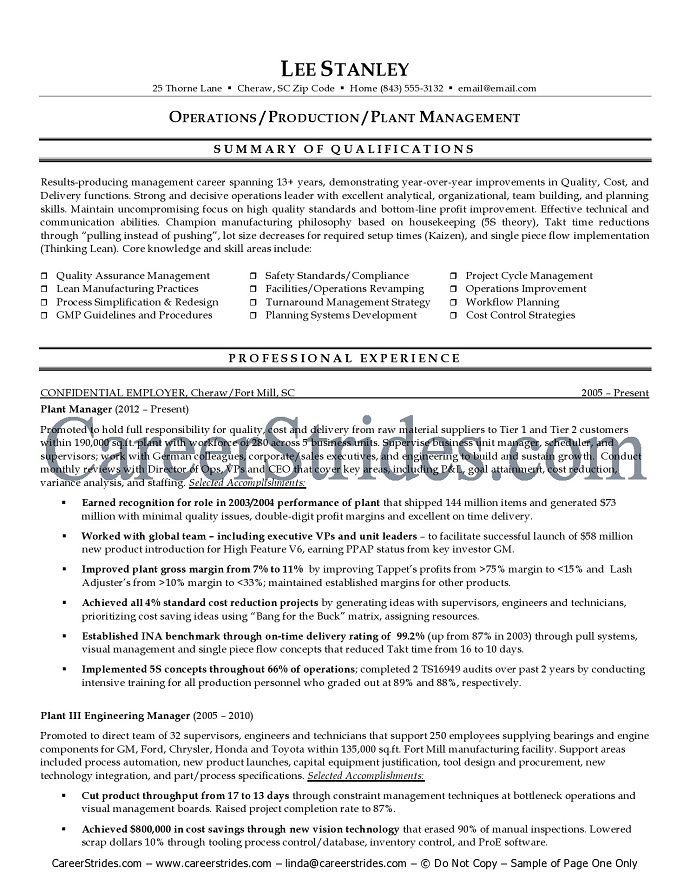 Submit Your Resume for Review


Don't have a resume to submit? No problem. Contact me at linda@careerstrides.com. After answering a few simple questions I will provide a firm quote.

For your reference, plant management resumes begin at $525 and increase depending on the complexity of the resume

.


If you are having difficulty with this form, email your resume and/or cover letter.

Thank you for your interest in CareerStrides. I look forward to working with you.