Retail Manager Resume Sample (Example)
A retail manager resume can focus on several core competencies, including loss prevention and security, in-store promotions, and inventory control and shrinkage. Lindsay's resume, the resume sample posted below, hones in on those professional strengths and some others.
Besides these core competencies, a retail resume can focus on the following:
Retail merchandising: ensuring products are positioned in such a way that sales increases and impulse buys fly off the shelves.

Recruitment and training: recruiting the best-in-breed employees and then provide each with the tools necessary to outpace personal and company production goals.

Change management: introducing innovative ideas instrumental in steering operations to achieve profit objectives.

Operations: Monitor and evaluate buying trends across stores and develop plans geared towards achieving key performance indicators, including expense control, sales strategies, and payroll activities.

People development: develop employees into company loyalists, successfully paving the way for them to climb up the corporate ladder.

Team collaboration: partner with other managers to design roadmaps focused on building product and store brands.
Of course, there are other areas you can flesh out in your resume. To determine the best ones, you can use job postings you come across as a guide. The retail resume sample below represents the skills, knowledge and abilities of one of my resume clients. This retail resume is indicative of the quality of my work. You can view other good resume examples and learn more about my qualifications as an online resume writer. To request a quote for your resume, visit the resume help page or email me.
Only page one of this resume is visible. Copyrighted. Do Not Copy.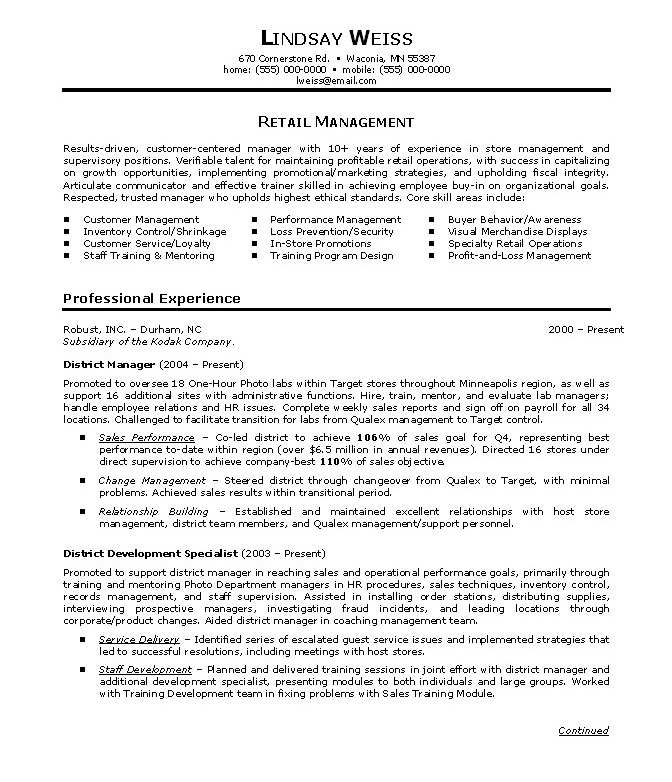 Submit Your Resume for Review


Don't have a resume to submit? No problem. Contact me at linda@careerstrides.com. After answering a few simple questions I will provide a firm quote.


If you are having difficulty with this form, email your resume and/or cover letter.

Thank you for your interest in CareerStrides. I look forward to working with you.