Administrative Support Resume Sample (Example)
An employer will be looking for an administrative support professional who holds the following core competencies: traveling and meeting management, bookkeeping skills, and workflow planning (among others). In addition, the employer is seeking the following in a candidate.
Dealing with people isn't always easy and you have to have a strong ability to manage stressful situations resulting from one-on-one interactions and high volume phone calls. Remember, you are the first point of contact with clients and your demeanor sets the tone for their experience with your company. If the client gets off the wrong foot with you, it will make it difficult for your manager to conduct business with them.

Being quick on your feet and not letting changing priorities and tight deadlines ruffle your feathers will make you stand out from the rest of the competition.

An important part of your job is to paying attention to detail, solving problems effectively, and leveraging a proficiency of business computer applications to create reports
As an administrative support professional, employers will scrutinize your resume closer than individuals in other profession. Reason being that you are rated heavily on your professional image. Your administrative support resume sample is the first point of contact with the hiring manager. What does your resume say about you? Shoot me an email to inquire about my administrative support resume service. Put my talent to work for you.

Only page one of this resume is visible. Copyrighted. Do Not Copy.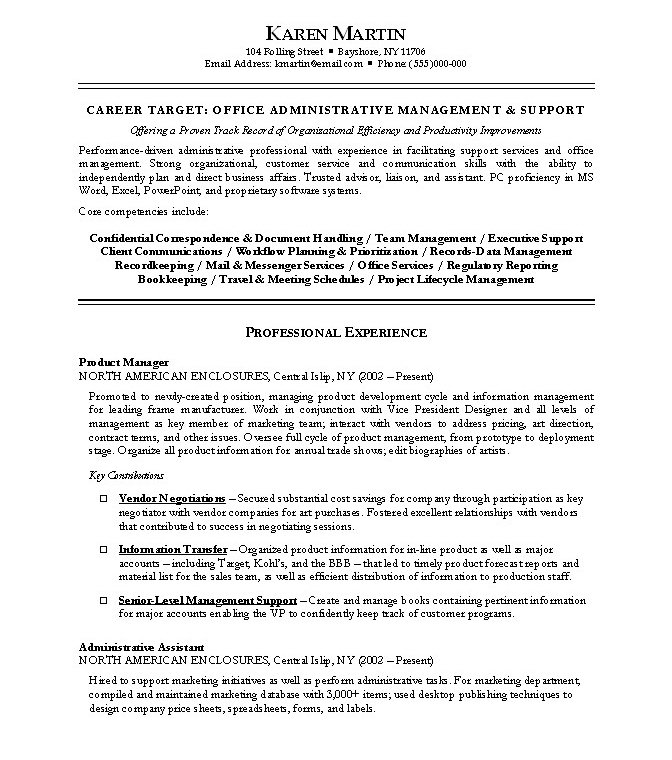 Submit Your Resume for Review


Don't have a resume to submit? No problem. Contact me at linda@careerstrides.com. After answering a few simple questions I will provide a firm quote.


If you are having difficulty with this form, email your resume and/or cover letter.

Thank you for your interest in CareerStrides. I look forward to working with you.