Education Resume Sample (Example)
Depending on your career level, the education resume can focus on different core competencies. Since there are many professions that fall into the education category, and I can highlight them all, I will touch upon two.
For professionals on the administration side, there are several professional strengths to bring to the forefront: budget development, program development, fiscal management, team building, and community relations. On the flipside, a classroom teacher resume can focus on the following: classroom management, early childhood intervention, student needs assessment, parent-teacher interaction, and behavior modification techniques.

These are just examples and you shouldn't expand on those competencies simply I highlighted them on this page. There is a lot more that goes into the decision. During our discussion, should you decide to move forward with my service, we will collaborate on the core competencies that make sense for you and your qualifications.
The education resume sample only contains page one. This sample should provide enough information regarding my writing style. Email me to receive a resume confidential quote on how to transform your homespun resume into a professional looking document. Learn about my resume service and my qualifications as an online resume writer and let's get started today on creating an education resume that will open doors. To visit the homepage go to resume service.
Only page one of this resume is visible. Copyrighted. Do Not Copy.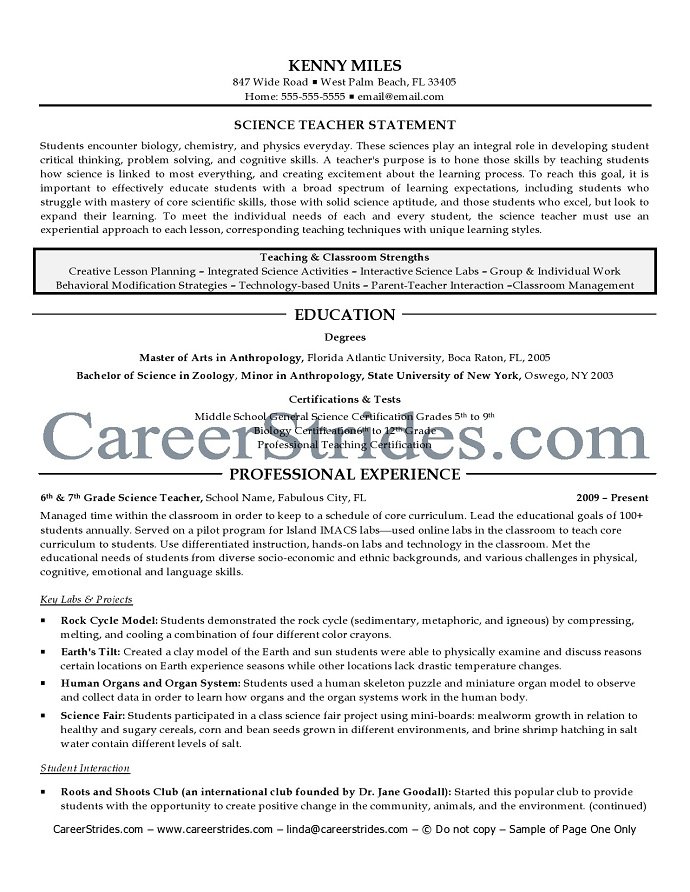 Submit Your Resume for Review


Don't have a resume to submit? No problem. Contact me at linda@careerstrides.com. After answering a few simple questions I will provide a firm quote.

For your reference,

the average

education resume begins at $425. Depending on the situation, some education resumes start at $325.




- - - - - - - - - - - - -



If you are having difficulty with this form, email your resume and/or cover letter.

Thank you for your interest in CareerStrides. I look forward to working with you.