COO Resume | Chief Operating Officer Resume Sample
Information on Writing a Chief Operating Officer Resume A Chief Operating Officer (COO) resume can highlight various operational milestones, including re-engineering processes across supply chain and logistics, customer service, partnerships and distribution and support functions. Of note, the resume should touch upon the COO's ability to keep abreast of market and industry trends and competitor movement in order to develop immediate short-term and long-range plans that create stakeholder value while ensuring the organization is providing a respected product in the marketplace.

As an online resume writer, these are the achievements I pulled out of Gary during our consultation because it's important for the reader to get a good grasp of his successes within a thirty second scan of his resume. In addition, Gary managed well-recognized brands and I showcased those to demonstrate to decision makers that he is someone who has had high-level responsibilities for Fortune 500 brands.

Other areas I highlighted include: pricing and revenue management, capacity planning, budget planning, expense controls, and strategic partnerships with consultants, vendors, and suppliers to ensure smooth execution of contract agreements.

In some organizations, the COO is also the President and CEO, but if you work for an organization where others hold those titles, like Gary does, your resume should also focus on your experience designing and accomplishing objectives established by Executive Board members and executives of your organization.

As you know, in order to achieve those milestones you have to evaluate the performance of departments within the organization. Specifically, you have to analyze the strengths and weaknesses of the people and evaluate the way the department runs. The plans you put into place and the outcomes of each are the results a decision maker wants highlighted on a resume. Let an executive resume writer bring out the best in you. Email for a resume quote.


Only page one of this resume is visible. Copyrighted. Do Not Copy.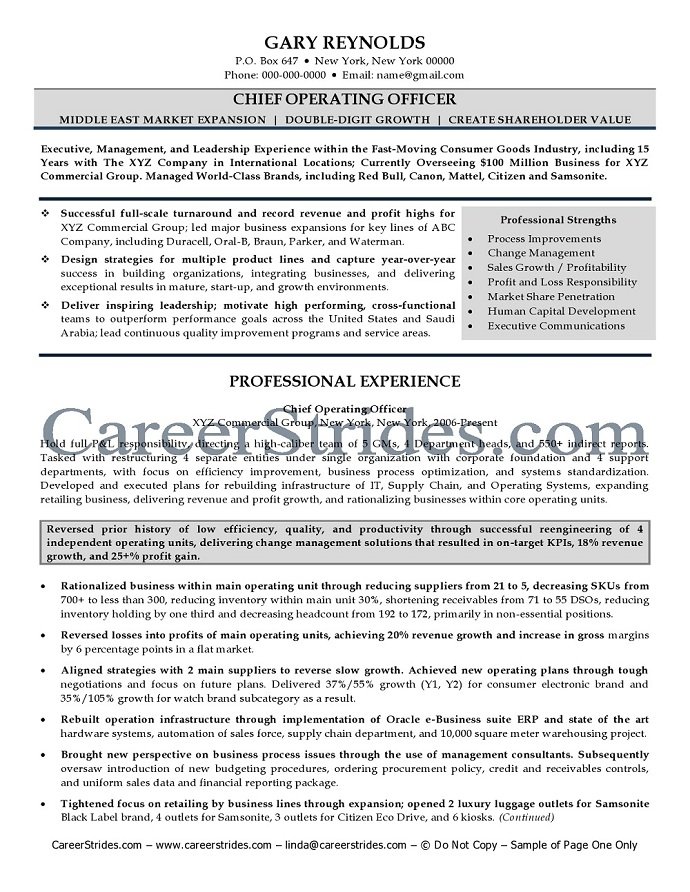 Ways to Contact Me

Should you decide to move forward with CareerStrides executive resume service, I will offer you the same consultative service. During a series of phone conversations, I will gather the information I need to create a resume that speaks to you and your professionalism. Contact me today to get started.
Linda Matias, NCRW, CIC, JCTC
Nationally Certified Resume Writer
Phone: (631) 403–2158
Email Resume:
linda@careerstrides.com